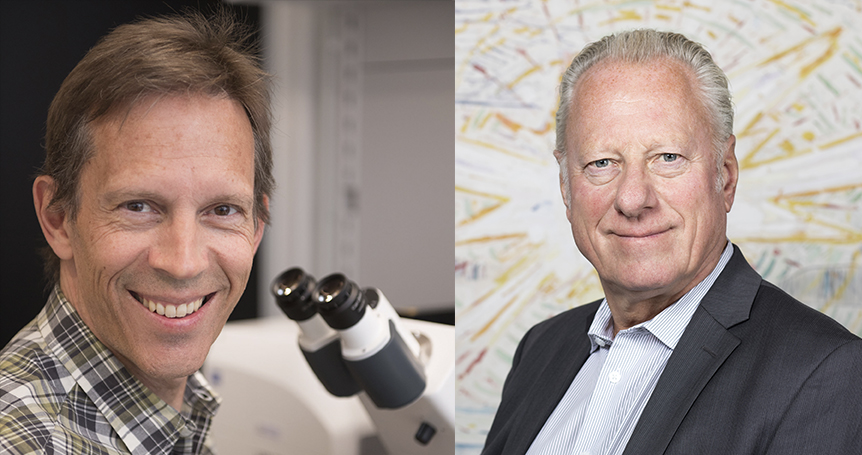 Thomas Perlmann, photo: Ulf Sirborn/ Karolinska Institutet. Stein Olav Henrichsen, photo: Courtesy Stein Olav Henrichsen.
Since 2010, Stein Olav Henrichsen has worked to further develop Munchmuseet's operations. Under his leadership, the museum has increased its international activities. The number of domestic and foreign visitors has risen sharply. Parallel with this, Mr Henrichsen has also been responsible for the construction of the new MUNCH in Oslo, which will open during the autumn of 2021.
"Stein Olav Henrichsen has faced challenges similar to those that we must address. It is about making our museum in Stockholm's Old Town more relevant to the local residents and about developing digital storytelling, at the same time as we start creating completely new experiences in a new building for our activities at Slussen. Thomas Perlmann will provide us with valuable expertise from the institution that selects the Nobel Prize laureates in Physiology or Medicine", says Vidar Helgesen, Executive Director of the Nobel Foundation and Chairman of the Board of the Nobel Prize Museum.
"Nobel Prize Museum carries out important activities based on strong, exciting plans and visions. I look forward to being involved in highlighting humanism, knowledge and art at a time when this is perhaps more vital than ever", says Stein Olav Henrichsen.
"Because of my many years of working to select the laureates in Physiology or Medicine, I am really passionate about the important task of spreading knowledge about Alfred Nobel's vision and his various prizes. It will be both fun and exciting to engage myself more actively as a member of the museum's board", says Professor Perlmann.
Stein Olav Henrichsen is a former Director of the Bergen National Opera. He has managed a number of cultural institutions and networks and has held many board positions both nationally and internationally. He has served on several Norwegian government cultural policy committees and has long experience from international cooperation.
Thomas Perlmann is Professor of Molecular Developmental Biology at Karolinska Institutet, a Swedish medical university. Since 2016 he has been the Secretary General of the Nobel Assembly at Karolinska Institutet and of the Nobel Committee for Physiology or Medicine.


The Board of Directors the Nobel Prize Museum, 1 May 2021, also includes
Mårten Castenfors, Museum Director, Liljevalchs konsthall
Dilsa Demirbag-Sten, General Secretary, Berättarministeriet
Bente Erichsen, film director, author
Cecilia Gunne, Attorney, Lindskog Malmström Advokatbyrå KB
Göran K. Hansson, Professor, Secretary General of the Royal Swedish Academy of Sciences
Lisa Månsson, PhD, Director of Museum Operations, Swedish Museum of Natural History
For further information, please contact
Rebecka Oxelström, Head of Press, Nobel Prize Musuem
rebecka.oxelstrom@nobelprize.org, +46 734 12 66 75
About the Nobel Prize Museum
The Nobel Prize shows that ideas can change the world. The courage, creativity and perseverance of the Nobel Laureates inspire us and give us hope for the future. Films, in-depth tours, and artefacts tell the stories of the Laureates and their contributions 'for the greatest benefit to humankind'. Based on the Nobel Prize's unique combination of fields – natural sciences, literature and peace – we examine the greatest challenges of our time and show how we can respond to them through science, humanism and collaboration. With our exhibitions, school programmes, lectures and conversations, we at the Nobel Prize Museum strive to engage the public in making a better world. Today we are located at Stortorget in Gamla Stan, Stockholm's Old Town district. We are planning to create a new home for our public outreach activities at Slussen in downtown Stockholm.
Disclaimer: Nobel Prize Museum is not directly or indirectly involved in the pro­cess of nominating or selecting Nobel Laureates. These procedures are strictly confiden­tial and regulated by the Nobel Prize awarding institutions.
© Nobel Prize Museum 2021. Nobelpriset®, Nobel Prize® and the Nobel Prize medal are registered trademarks of the Nobel Foundation.