Opening hours
Bistro Nobel is open when the museum is open. See the museum's opening hours here.
Lunch
Tuesday-Friday 11:00-14:00.
Lunch menu 28 November – 1 December
Lamb steak with tzatziki, red wine sauce & rosemary potatoes (SEK 145)
Almond-baked white fish with green peas, boiled potatoes & clarified butter (SEK 145)
Polenta with tomato sauce, butter beans & grilled zucchini (Vegetarian) (SEK 145)
Soup of the week (SEK 135)
Small soup of the week, bread, mineral water and coffee or tea are always included.
For children, there are always pancakes on the menu.
Members have a 10% discount in the bistro
Read more about our memberships here.
Discount does not apply to alcoholic beverages.
© Nobel Prize Outreach. Foto: Clément Morin.

© Nobel Prize Outreach. Photo: Clément Morin.
© Nobel Prize Outreach. Foto: Clément Morin.

© Nobel Prize Outreach. Photo: Clément Morin.
Friday nights
On Friday evenings we present an exciting program in Bistro Nobel, at 18:00 – 19:00. Enjoy everything from concerts, literary talks, performances and science talks to food and drink tastings. Bistro Nobel offers food and drinks from our Friday night menu during the program. Read more about our program the coming Friday evenings and buy tickets on our events page.
If you'd rather mingle in our exhibitions, you're welcome to enjoy them with a glass of champagne. When the program ends at 19:00, the bistro is open again to all our guests. Try something from our Friday night menu or explore our range of cocktails, beers and wines. We also offer several tasty non-alcoholic options.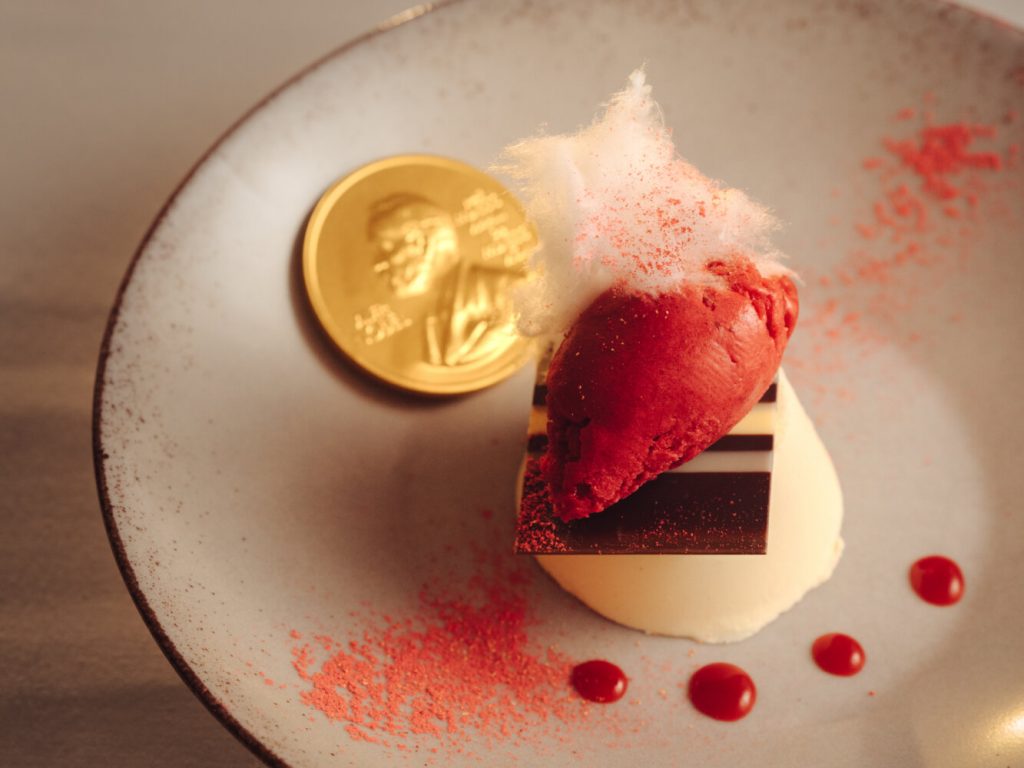 Café
The bistro is open from 11:00 everyday the museum is open. We serve coffee and tea, Swedish fika, sandwiches and Nobel ice cream.
Nobel ice cream
We serve the classic Nobel banquet dessert: ice cream! The ice cream is served with a chocolate medal for 125 SEK.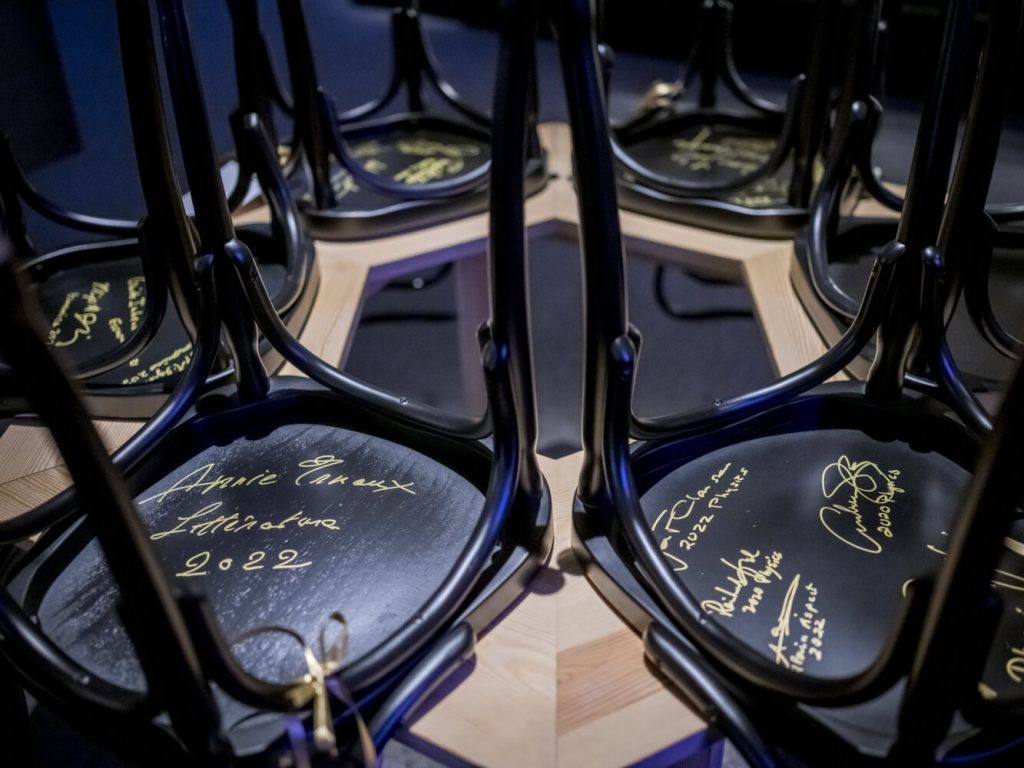 © Nobel Prize Outreach. Photo: Nanaka Adachi
Guest book
Bistro Nobel is modeled on Café Museum in Vienna – one of the many cafés that were informal meeting places of intellectuals at the turn of the century. Turn your café chair upside down while you are here and you will find signatures of all the Nobel Laureates that have visited the museum.
Private events
Bistro Nobel can be reserved for everything from a breakfast meeting to a cocktail- or dinner event. Please read more about our private events here.
Contact
Telephone: +46 8 534 818 12
E-mail: bistronobel@nobelprize.org