The unique concept of this summit is unlike many other teacher conferences. Here, teachers are VIP guests with knowledge and experience that is crucial for the meeting. All participants sit at round tables and themes are discussed in the group of teachers at the table. In that way every participant makes an important contribution to the summit.
A flexible programme
The program has a mix between short lectures, interviews and panel discussions. It is also possible to choose between different breakout sessions and to ask questions to the speakers on stage in Q&A sessions. We encourage discussion and reflection with other teachers at the table. The teacher summit is also a way of connecting with colleagues from all over the world. For international guests, we offer a three-day-program called the Extended program. Read more here.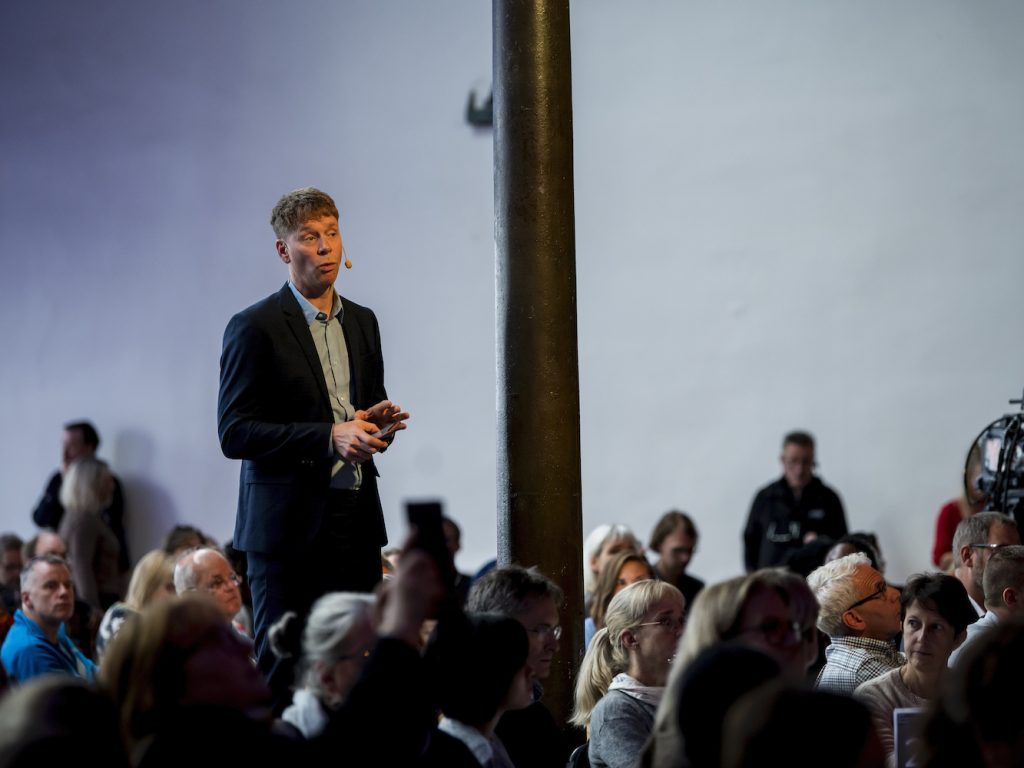 Pontus Thunblad, Nobel Prize Museum, transmitting audience questions to the stage.
Third year in a row
The first Nobel Prize Teacher Summit was held on 6 October 2017 in Stockholm, Sweden with the theme 'A world with fake facts needs true teachers!' The program featured Nobel Laureates Shirin Ebadi, Herta Müller and Bernard Feringa, as well as other prominent speakers.
The 2018 Teacher Summit had the theme 'Teach Love and Understanding' and focused on how schools can counter racism, extremism and intolerance. How do we promote democracy, non-violence and sustainable development in our daily work as teachers? How can education based on science prepare our students to be tolerant and engaged citizens? Read more and see videos of the lectures, interviews and panels from 2018 here.
Climate Change Changes Everything
For 2019 the theme is 'Climate Change Changes Everything.' The way we address climate change in education has a huge impact on the future. We as teachers have a great opportunity to make positive change possible but how do we do it without creating fear or anxiety? Read more and register here.
We hope that this years' Nobel Prize Teacher Summit will be enlightening and we look forward to seeing you there.
Join us
Please join our education related news letters from Nobel Prize Museum for future activities, news and information.
Would you like to know more or do you have any questions?
Please get in touch with:
Annika Hedås Falk, Vice President Education, Nobel Prize Museum, at annika.hedas-falk[at]nobelprize.org.